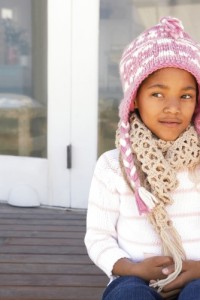 With so much on the list to prepare your home for winter, your deck may not be the first item you are thinking of.
Unfortunately not preparing your deck for the hard winter months can cause excess mold and mildew to accumulate destroying your wood and becoming a danger to your home.
Getting your deck ready to fight Old Man Winter is as easy as following a few steps.
Have Your Deck Inspected for Mold
Contact a licensed and certified mold inspector to assess your deck for any mold or mildew that has accrued in the previous years.  Be sure to choose a mold inspection service that has proper certification. Long-term mold problems can cause severe damage not only to your deck, but your home's value, and your overall health.
Bag and Store Any Patio Furniture
Leaving items or patio furniture on your deck can not only cause wood discoloration due to trapping water, but can also cause mold and mildew growth throughout the wet winter months.
Clean Your Deck
Once your deck is clear it is time to clean it.  Use a deck wash that is free of bleach and will not cause yellowing.  Use the scrub until all of the ground in dirt, debris and any algae is removed.  You may have to repeat the process a couple of times to remove all dirt.  If your deck is particularly dirty or covered with oil, paint, or other stains it may be time to refinish it.  If you need to do this you will need to strip and refinish your deck before proceeding to the next step.
Apply Water Repellent
Choose a water repellent and sealer.  This will help prevent the wood from yellowing, splitting, warping or cracking during the winter months due to accumulation of snow, sleet and ice.  There are options of choosing colored sealant to enhance the color of the wood or transparent.  Follow the instructions for applying.  Be sure the deck is properly prepped and this is done under the appropriate weather conditions for the product to avoid any problems.
Maintain Your Deck Through the Winter With Regular Snow Removal
Keeping the deck free of snow and ice throughout the winter will help prevent cracking and warping, especially in the case of heavy snow fall or ice.  Be sure to shovel in the direction of the boards so you do not nick the planks.  Do not use salt on your deck, as this will erode the wood and cause long-term damage.  If you keep up with the snow removal, ice buildup that requires salt should not be an issue.
Keeping you deck beautiful from year to year should not be a headache.  If you follow the simple steps above, you will be able to keep your deck looking like new for years to come.  For more information on keeping your deck mold free contact a mold specialist today.