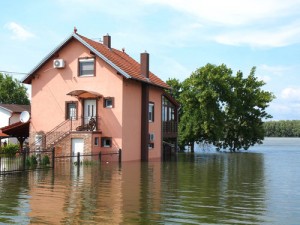 Flood water carries many contaminants that can be dangerous if not cleaned properly. For this reason, it is extremely important to clean your house thoroughly after a flood.
Preparing yourself for clean-up
Protect yourself from flood water contaminants with water-proof shoes (or waders if the water is very deep), heavy-duty plastic gloves and a face mask to avoid inhaling dangerous contaminants.
Removing Excess Water
If the flood was shallow, simply throwing open a few windows may be a sufficient way to remove excess water.
If flood water is deep, however, pump only a few feet of water out each day to prevent pressure build-up which can lead to buckling and cracking of the foundation and wall cavities.
Flood-soaked Flooring
Some flooring like linoleum, vinyl and carpet pad absorb water and block evaporation, so they will need to be discarded. Carpet and area rugs can be saved with the help of a professional cleaner, but will need to be removed to do so (and to allow subflooring to dry), which you can do by simply draping it outdoors.
Wood flooring can be revived by drying it out slowly (to prevent buckling or cracking) and removing planks every few feet to both allow air flow under its surface and prevent unwanted bulges in the floor.
Drying Walls and Ceilings 
If flood damage has consumed most of a wall, the contaminated surface area and underlying drywall may need to be replaced. If only a few inches of the walls have been exposed, however, then patch-work may be sufficient.
Before replacing drywall, make sure the wall cavity is sufficiently dried to prevent mildew and further structural damage by cutting holes at the bottom and top of the wall cavity to allow air to pass through. Just make sure locate (and avoid) load-bearing walls. Use a similar process to dry the cavity between ceilings and floors.
What to do With Insulation
Foam insulation can withstand a flood, but many other types cannot. If your home's insulation has been damaged by flood water, it needs to be replaced to prevent mold growth. Wet insulation loses its R-value, anyway, and will therefore never be as efficient as it was before the flood.
Sanitizing Your Kitchen After a Flood
Any food that has come into contact with flood water needs to be discarded immediately. This includes almost everything in your cupboards except canned foods. Clean dishes with bleach, as well, or boil items like flatware to avoid the chemical reaction that occurs when metal and bleach interact.
Saving Electronics
Don't use any electronics until they've been professionally inspected. Though a professional can often salvage large-ticket items, smaller items may be easier to replace.Floods can be devastating, but if you act quickly, damage can be minimal.