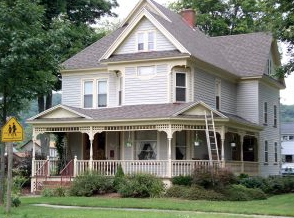 Do you think your home needs asbestos testing? Newmarket, Barrie and Toronto's homes can still contain this harmful substance.
So where can you find it? Lots of places. It's best to not go looking for it on your own. If you suspect your home contains asbestos, always call a professional for full asbestos testing.
According to the United States Environmental Protection Agency, it can be found in places like:
• Attic and wall insulation produced containing vermiculite
• Vinyl floor tiles and the backing on vinyl sheet flooring and adhesives
• Roofing and siding shingles
• Textured paint and patching compounds used on wall and ceilings
• Walls and floors around wood-burning stoves protected with asbestos paper, millboard, or cement sheets
• Hot water and steam pipes coated with asbestos material or covered with an asbestos blanket or tape
• Oil and coal furnaces and door gaskets with asbestos insulation
• Heat-resistant fabrics
• Automobile clutches and brakes
Again, it's best if you leave it to the professionals. They know what to look for and how to remove it. It can sometimes be found in the materials used to build your home, like shingles or floor tiles.
If you have any questions about asbestos testing in Newmarket, Barrie or Toronto, please don't hesitate to contact us any time.